English Language and Literature
Mission
To equip our students with aural, oral and written skills to express thoughts and ideas and subtleties in communicating proficiently and effectively in Standard English.  
To offer a wide range of opportunities for students to explore the use of language, stimulate their interest and encourage their enjoyment of English.
Our Team
Head of Department  – Mr Kang Soon Leong Casimir
Subject Head – Mrs Eleanor Leong
Head of Department / Special Educational Needs (SEN)  – Mr Lee Beng Wah
Senior Teacher (Music) – Ms Chua Jing Lin Eunice
Teacher – Mr Azahar Bin Mohamed
Teacher – Mr Azman Bin Akmad
Teacher - Mr Hector Tan Teck Huat
Teacher - Mr Joshua Ho Jin Teck
Teacher - Ms Kumari Shanker
Teacher – Mrs Lee Poh Lin
Teacher - Ms Megan Tan Shu Ning
Teacher - Ms Nithiyaa D/O Rajaratnam
Teacher – Mdm Ow Ju-Lin
Teacher - Ms Sheena Lee Jia En
Teacher – Ms Tey Ser Ling
Teacher - Mr Wong Jun Pei Nicholas
Instructional Programme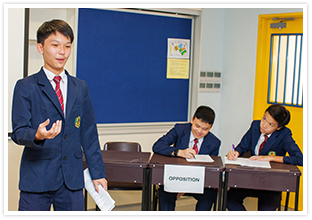 Our English Language Department recognises the need for English teaching to integrate both skills and knowledge. As such we have adopted a skills-based instruction coupled with relevant themes that provide content knowledge, vocabulary and awareness of current affairs.
The department has carefully organised an English curriculum with Spiral Progression, Process Orientation, Structuring Consolidation and Enabling Application as the key facets that underpin our Teaching and Learning Programme.

English Language (Lower Secondary)
The objective of the Lower Secondary English Language programme is to ensure that our students develop all the skills necessary for communication and language competency by interacting with rich texts and being provided with the opportunities to use and apply the language in authentic settings, through fun and collaborative ways. 
The Secondary one classes will have the opportunity to go through a Presentation and Communications Workshop, where they will acquire skills to communicate effectively and conduct presentations confidently. They will do this in fun and engaging ways through role-plays and scenarios like presenting information to various groups of audience, for example, CCA mates, peers and visitors to our school. Students will be keenly attuned to the need to consider their tone, articulation, purpose, audience and context as they prepare their speeches. 
Lower secondary students also have an Alternative Assessment every semester which provides them a platform to apply their knowledge and skills learnt in an authentic setting. Secondary one students will apply the skills learnt in the Presentation Workshop to produce podcasts during Blended Learning. Secondary two classes will be focusing on persuasive and oracy skills which will culminate in the students presenting mini Ted-talk style of speeches.
Literature in English (Lower Secondary)
The school-based curriculum at Montfort Secondary aligns itself closely with the Literary Response Framework (see below) which seeks to promote cognitive flexibility in students.
In the first two years of their study, students explore the three literary genres (prose, poetry and drama) by engaging in a novel (The Boy in Striped Pyjamas), a play (Something Old, Something New and Something Borrowed) and a selection of local and international poems. Through these texts, students participate in frequent discussions about ethical, aesthetic and intellectual considerations to develop their abilities to read critically, think creatively, communicate convincingly and express eloquently.
The study of Literature in Montfort Secondary seeks to empower students to actively construct meaning in texts and see themselves and the world from diverse perspectives. It inspires students to empathise with others, find their own voice as they reflect on the human condition with discernment, and to consider the impact of their beliefs and actions on society.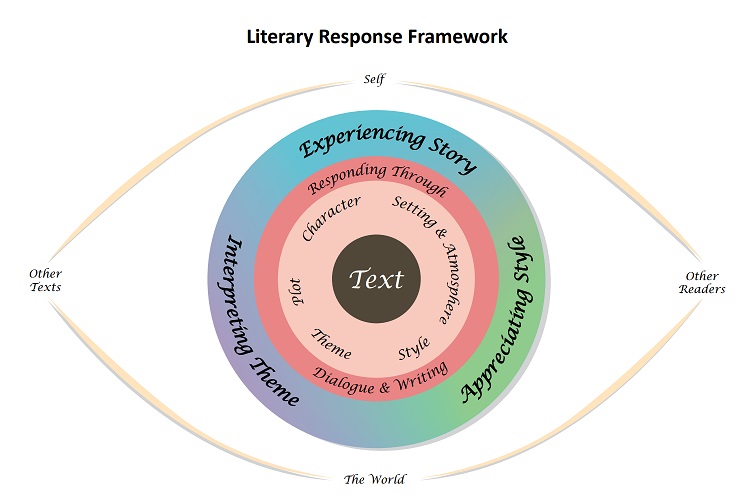 English Language (Upper Secondary)
The key focus of the Upper Secondary Curriculum is to enable our students to apply the skills learnt and to be critical thinkers who can evaluate the purpose, credibility and reliability of the multiple texts they interact with on daily basis.
All students at all levels of study are strongly encouraged to bring a story book to read every day, enjoying the stories while acquiring the language inductively. We have class library books for loan and digital copies of The Straits Times to keep them updated on current affairs in both Singapore and the world. Every weekend, reading articles and videos will be emailed to them with insightful questions for them to reflect on, so as to build their content knowledge and develop their critical thinking faculties.
Literature in English (Upper Secondary)
In the classroom, students explore various themes through the critical study of literary texts (films, songs, poems, prose and poems). The Literature Curriculum aims to develop students who actively construct meaning and in the process make connections between the texts, their lives and the world.
All Literature students will attend one play, which is usually their O Level text, once in their 2 year Literature course. Students get to interact with the director and actors after the play, which gives them the opportunity to visualise how dramatic techniques and symbols are represented on stage.