For Normal(Academic) (G2)
Sec 3 Subject Combination 2024 for Sec 2 Normal (Academic) students in 2023
Information is accurate as of 17 January 2023. Any changes will be communicated through Parents Gateway (PG).
1. GUIDING PRINCIPLES FOR ALLOCATION OF SUBJECT COMBINATIONS
Evidences of demonstrated aptitude and ability
        - Sec 2 Subject Overall Results 

Students' choices 
        Students need to choose based on their aptitude, interests and their future post-secondary option and submit their final choice during the Sec 3 subject combination exercise in October.
Subject-specific / Combination requirements
Availability of vacancies in each subject (subject to School Resources) 
2. SUBJECTS OFFERED FOR S3 NORMAL (ACADEMIC)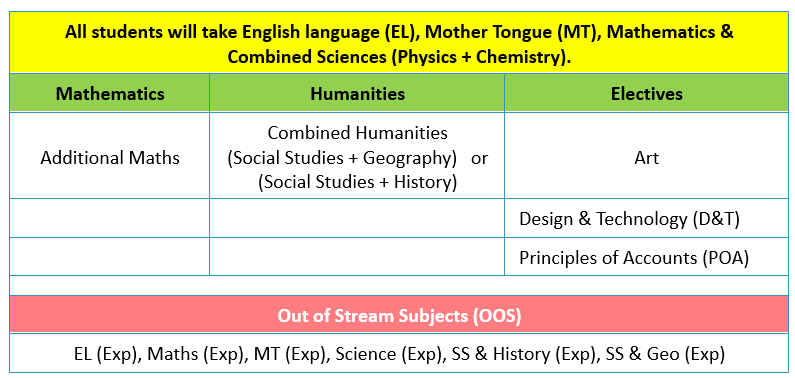 3. OUT OF STREAM SUBJECT (OOS)

4. S3 NORMAL (ACADEMIC) SUBJECT COMBINATIONS [More information will be updated soon]
Notes
#Students who are exempted from MT or taking MTB should take note that they have 1 less N-level subject.
5. MINIMUM CRITERIA FOR S3 NORMAL (ACADEMIC) SUBJECTS