ACADEMIC POLICY AND FRAMEWORK
Academic assessment is a process of gathering and documenting information about students' achievement and performance and is used for making informed decisions about student, curricular and educational policies. It involves giving and using feedback to enable students to improve their learning and meet their academic goals.
GRADING SYSTEM
A good grasp of the grading system and promotion criteria helps you to set your short-term and long-term goals, i.e. gaining the necessary standard entry into a Junior College / Centralised Institute / Polytechnic / Institute of Technical Education of your preferred choice. Goals must be achievable and evaluated regularly.
GCE O-LEVEL
GCE N-LEVEL (FOR NORMAL ACADEMIC COURSE)
GCE N-LEVEL (FOR NORMAL TECHNICAL COURSE)
ACADEMIC PROMOTION CRITERIA
The following are the guidelines for promotion of pupils in the various streams. Please note that this promotion criteria applies to students admitted to Secondary One before 2023.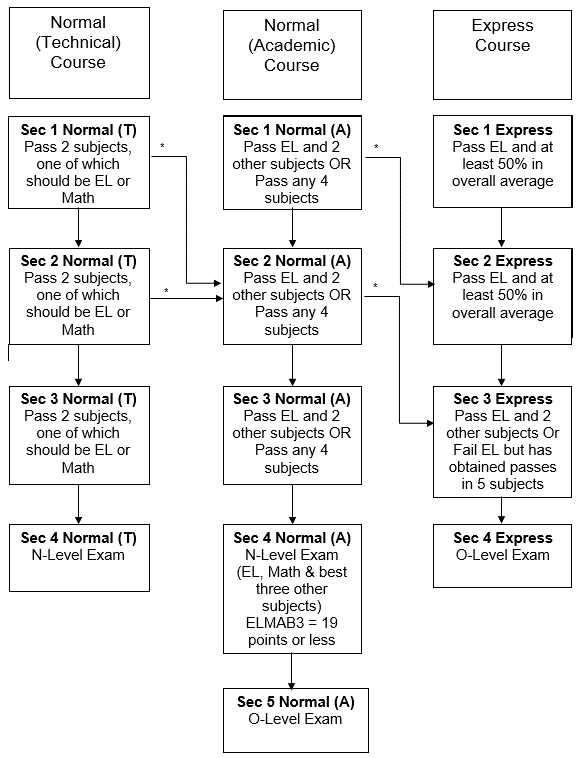 *Students may be offered lateral transfer to a more academically demanding course they are assessed to be able to cope with the rigour of the more demanding course (especially in English Language and Mathematics), and have obtained a minimum of 70% in the overall percentage of all subject combined.